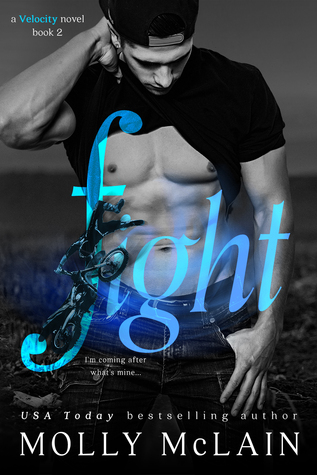 Title: Fight
Series: Velocity #2
Author: Molly McLain
Genre: New Adult/ Contemporary Romance
Release Date: October 14th, 2016
Synopsis
The story continues…
I trusted Colton with every bit of myself. I believed him when he promised he'd never hurt me. But he broke me…and now I watch him give another woman everything I thought would be mine.
I never saw this coming.
I don't blame Taylor for the decisions she's made, because I know the fault is all mine. I took her for granted. I broke her heart.
But she's everything to me. If the guy holding her now thinks for one second I'll lay down without a fight, he's dead wrong.
Because I'm coming after what's mine.
My Thoughts:
Fight was the perfect conclusion to Taylor and Colton's story!
Since this is the conclusion i'm not going to go into much detail and this review is going to be short out of fear of giving to much away.
All you really need to know is this series is freaking amazing!!! Not to mention the drama in this novel is amped up compared to in the first novel.
Taylor and Colton are forced with obstacles that go against their relationship.
I'm not going to lie i had a love/hate relationship for Colton during the first half of the novel. How stupid could one man be. No contract is worth your dignity, no matter what the dollar amount is!
Besides Colton, Taylor also has her own consequences she has to adjust to and live with.
I really loved Taylor and Colton's story. I'm really sad to see it end but was happy to see more characters make an appearance in Fight. Except for Bria…i highly disliked Bria.
Thanks for checking out my review!
Fight is now live. If you've never read anything by Molly McLain take a chance like i did and check out this series!
Peace, Love, and Happy Reading,
Alecia @ The Staircase Reader