Hello and welcome!
Fab 5 Friday is a weekly book meme created by me! In no way do you all have to go along but if you'd like to feel free 🙂 All you have to do is leave your post in the comments and/or tag me so I can check out your posts!
This week I'm listing the books that have caused me to view the world differently!
This was a hard category for me because I didn't just want to choose any novel. I wanted the novels that literally made me sit and reflect on. I wanted to put myself in these characters positions just to see what I would have done if I were them. I also made a drastic change in my appearance because of a novel that I read.
Here is my list:
A Child Called "It" by Dave Pelzer.
This book chronicles the unforgettable account of one of the most severe child abuse cases in California history. It is the story of Dave Pelzer, who was brutally beaten and starved by his emotionally unstable, alcoholic mother: a mother who played tortuous, unpredictable games–games that left him nearly dead. He had to learn how to play his mother's games in order to survive because she no longer considered him a son, but a slave; and no longer a boy, but an "it." Dave's bed was an old army cot in the basement, and his clothes were torn and raunchy. When his mother allowed him the luxury of food, it was nothing more than spoiled scraps that even the dogs refused to eat. The outside world knew nothing of his living nightmare. He had nothing or no one to turn to, but his dreams kept him alive–dreams of someone taking care of him, loving him and calling him their son.
I had to read this novel for my sociology class in high school. I was in tenth grade and I remember sitting in the cafeteria reading this book with tears running down my face. This book is based on the most extreme case of child abuse that was ever recorded in California. What is even more shocking is this was based on the author Dave Pelzer's own life. He was this child, he suffered through the abuse in the novel. This is his story. Warning if you haven't read this novel and you feel like taking a look into it because of this post, be prepared for details of abuse and child neglect. This book is so brutal my parents had to sign a waiver saying it was okay that I take part in this lesson. This book extremely traumatized me. Being fifteen and living a life with a loving family, hugs and i love you's every day, I couldn't imagine anyone's life being this tragic. This novel opened my eyes and in a way crushed the bubble that i had surrounded around myself. It's crazy when someone else's story affects you this much.
---
My Sister's Keeper by Jodi Picoult!
Anna is not sick, but she might as well be. By age thirteen, she has undergone countless surgeries, transfusions, and shots so that her older sister, Kate, can somehow fight the leukemia that has plagued her since childhood. The product of preimplantation genetic diagnosis, Anna was conceived as a bone marrow match for Kate — a life and a role that she has never challenged… until now. Like most teenagers, Anna is beginning to question who she truly is. But unlike most teenagers, she has always been defined in terms of her sister—and so Anna makes a decision that for most would be unthinkable, a decision that will tear her family apart and have perhaps fatal consequences for the sister she loves.

A provocative novel that raises some important ethical issues, My Sister's Keeper is the story of one family's struggle for survival at all human costs and a stunning parable for all time.
When I think about novels that have changed my outlook on life. My Sister's Keeper instantly comes to mind. I cried so much for this family. My heart broke repeatedly. This novel made me sit and consider what I would do if I was in Anna's position. Being born just to be the healer for her sick sister who in reality just wants to be set free, is a hard pill to swallow. I admire Anna's courage for standing up for not only herself but for her sister. This is definitely one of the most emotional novels I have read. 
---
Tortured by: Nicole Williams.
When he left for a twelve-month deployment, she knew it would feel like forever before they saw each other again. She didn't realize how right she was.

When Lance Corporal Brecken Connolly gets taken as a POW, Camryn hopes for the best but steels herself for the worst. In the end, steel was what she needed to survive when he didn't. She moves on the only way she knows how—gilding herself in more steel.

Years go by.
She builds a new life.
She leaves the old one behind.

Until one day, she sees the face of a ghost on the news. Brecken seems to have risen from the dead, but she knows she can't perform the same miracle for herself. While Brecken was held in a torture camp for the past five years, she's been trapped in her own kind of prison. One she can't be saved from.

The man she mourned comes back to join the living, but the girl he wanted to spend his life with isn't the same woman he comes back for. Brecken isn't the same person either. The past five years have changed them both. While he's determined to put the pieces back together, she's resolved to let hers rot where they shattered.

Broken or not, Brecken wants her back. He'll do anything to achieve that. Even if it means going against the warden of Camryn's personal prison—her husband.
This novel hasn't been released yet, but I cannot stop thinking about it. Because it's not out yet I decided to not go into detail. I have sat thinking about this novel all week. My review will be going up soon, but just by reading the synopsis you all will get an understanding of what exactly I'm feeling.
---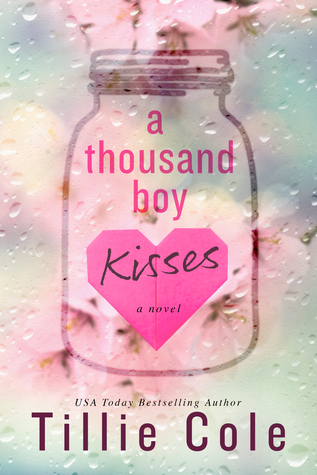 A Thousand Boy Kisses by Tillie Cole
One kiss lasts a moment. But a thousand kisses can last a lifetime. One boy. One girl. A bond that is forged in an instant and cherished for a decade. A bond that neither time nor distance can break. A bond that will last forever. Or so they believe.

When seventeen-year-old Rune Kristiansen returns from his native Norway to the sleepy town of Blossom Grove, Georgia, where he befriended Poppy Litchfield as a child, he has just one thing on his mind. Why did the girl who was one half of his soul, who promised to wait faithfully for his return, cut him off without a word of explanation? Rune's heart was broken two years ago when Poppy fell silent. When he discovers the truth, he finds that the greatest heartache is yet to come.

A stand-alone young adult tearjerker romance, recommended for ages fourteen and up
I have one statement…Child Cancer sucks! This novel made me want to reach out and help those that are fighting for their lives. I actually donated 14 inches of my hair to an organization known as CWHL (Children With Hair Loss). They specialize in making wigs for those in need that are under the age of 21. To know that I put a smile on a child's face means everything to me.
---
I only listed four novels this week. I honestly couldn't think of a fifth that has impacted my life and made me view the world differently in the way that the listed four have. Thank you for taking to time to check out my Fab 5 Friday.