WWW Wednesday is a weekly book meme hosted by Sam @ Taking on a World of Words. Every week we answer three questions or as we call them the three W's:
What are you currently reading?
What did you recently finish reading?
What do you plan to read next?
I just started an ARC of Grand Slam by Heidi McLaughlin! I feel like I have been waiting my whole life for Travis Kidd's story! Grand Slam is book three in 'The Boys Of Summer' series!
Win the game. Lose your heart.
Everyone knows who I am and that I could have any female fan I want. That's supposed to be the "perk" of playing left field for the Boston Renegades. But I don't want just any woman; I want her.

She should be just another face in the crowd, but I can't stop thinking about the one night we spent together-and her look of regret the morning after.

Because Saylor Blackwell is the kind of woman who haunts a man. Smart, sexy as hell, and one of the best managers in the business. She's every ballplayer's dream woman. And I'd do anything to make things right with her.

I'm done sitting on the bench when it comes to Saylor Blackwell. Time to swing for the fences.
I finished two books so far this week. The first one was One True Loves by Taylor Jenkins Reid. This book is amazing, but, its complete torture. I have never wanted to read the last page so bad halfway through. If you're looking for an angsty novel, I highly recommend One True Loves.  I rated One True Loves 5/5 stars.
In her twenties, Emma Blair marries her high school sweetheart, Jesse. They build a life for themselves, far away from the expectations of their parents and the people of their hometown in Massachusetts. They travel the world together, living life to the fullest and seizing every opportunity for adventure.

On their first wedding anniversary, Jesse is on a helicopter over the Pacific when it goes missing. Just like that, Jesse is gone forever.

Emma quits her job and moves home in an effort to put her life back together. Years later, now in her thirties, Emma runs into an old friend, Sam, and finds herself falling in love again. When Emma and Sam get engaged, it feels like Emma's second chance at happiness.

That is, until Jesse is found. He's alive, and he's been trying all these years to come home to her. With a husband and a fiancé, Emma has to now figure out who she is and what she wants, while trying to protect the ones she loves.

Who is her one true love? What does it mean to love truly?

Emma knows she has to listen to her heart. She's just not sure what it's saying.
I also finished Blush by Opal Carew. This novel was just okay, yeah it had scorching sexy time scenes and trust me when i say, they were plentiful but i wanted more from the story itself. I had trouble connecting with the characters and actually getting into the novel. I did however rate this novel 3/5 stars. The author definitely did her homework when it came to the main point of the story. 
Kama Sutra, Tantra, Ménage…are you ready to blush?

Hanna Lane wishes she could shed her inhibitions and unleash her wild side in the bedroom. When she meets J. M.–a Kama Sutra and Tantra master–they embark on a sizzling path of discovery, exploring the ancient sensual arts and discovering new techniques that allow Hanna to unlock her naughtiest fantasies and make them a red-hot reality. But when Hanna's exboyfriend Grey re-enters her life determined to win her back, Hanna longs to share herself with both men. But can she tell J.M. and Grey her most taboo fantasy? And who will win her for keeps?
I have a few novels on my mind that I want to read next. I'm still deciding which is going to be next though.
The First is Distraction by Emily Snow
At the ripe old age of twenty-eight, Jamie Armstrong is sick of douchebags like the PA who told her she has an "ass made for screwing" on the first date. She wants commitment, and she's got a list that she's anxious to check off.

Love.

Marriage.

Baby (preferably twins, because two's company).

Then she meets Mateo Bailon.

An attorney with a penchant for chains and kink, Mateo isn't looking for commitment and he sure as hell doesn't want marriage. Not again. He wants a distraction—a new way to forget his past—and Jamie's his favorite kind of drug.

He just never counted on getting addicted.
The second is an ARC of Tyson by Kathy Coopmans. Tyson is the third book in 'The Saints' series 
I know what it's like to have your heart split down the middle.
One-half chases her. The other half chases after the lies, deceit, and betrayal.
It's a burning ball of hell.
Seconds, minutes, hours, and years all spent endured the depth of my own burning inferno.
All of it runs together while life passes me by.
Thirteen years ago, the woman I was in love with left me standing at the altar.
Hurt.
Broken.
Humiliated.
Some say thirteen is a lucky number.
Me? I curse the number.
Now she's back.
Reminding me.
Torturing me.
She says things are not what they seem.
That they weren't then either.
Do I believe her?
Do I forgive?
Forget?
Time and truth will tell.
I also really want to read Four Letter Word by J. Daniels, this is the first book in the 'Dirty Deeds' series. I've been wanting to read this for a long time now.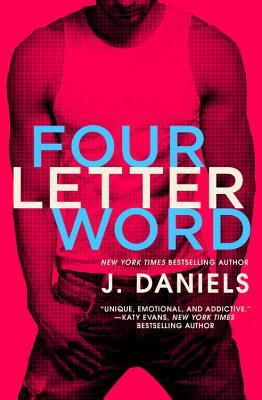 Fate. Hate. Love. Lies.

Which four letter word will change their lives forever?

Sydney Paige was never so mortified to hear the words "wrong number" in her life. She meant to tell off the guy who broke her best friend's heart but unleashed her anger on a perfect stranger instead. And now her world is turned upside down by the captivating man who wants to keep her on the line.

Brian Savage is living a life he's quickly come to hate-until Sydney's wild rant has him hooked and hungry for more. Soon the sexy woman on the phone becomes the lover in his bed. But Brian has secrets, and the closer he lets Syd get, the harder it is to shield her from the devastating mistakes of his past . . .
What do you plan on reading this week?
Let me know in the comments ❤
Peace Love and Happy Reading,