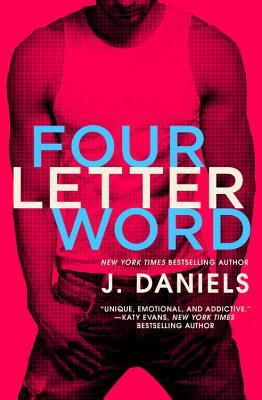 Title: Four Letter Word
Series: Dirty Deeds #1
Author: J. Daniels
Genre: Romance
Publisher: Forever
Publication Date: October 4, 2016
Format: Paperback | Pages: 416
My Rating:✮✮✮✮✮
Synopsis:
Fate. Hate. Love. Lies.
Which four letter word will change their lives forever?
Sydney Paige was never so mortified to hear the words "wrong number" in her life. She meant to tell off the guy who broke her best friend's heart but unleashed her anger on a perfect stranger instead. And now her world is turned upside down by the captivating man who wants to keep her on the line.
Brian Savage is living a life he's quickly come to hate-until Sydney's wild rant has him hooked and hungry for more. Soon the sexy woman on the phone becomes the lover in his bed. But Brian has secrets, and the closer he lets Syd get, the harder it is to shield her from the devastating mistakes of his past . . .

WOW…JUST WOW…
Brian Savage where have you been all my life?
I went into Four Letter Word knowing absolutely nothing about this novel. Let me tell you…
Brian and Sydney are a book couple force to be reckoned with. 
There are so many aspects in this novel that I loved.
The first is obviously the couple this story is about, Brian and Sydney. I loved the way their relationship started with Sydney calling to bitch out Tori's two timing ex only to find out she dialed the wrong number. I laughed so hard because of this scene. Damn, that is embarrassing.
I also loved the fact the first half of the book was Brian and Sydney communicating only via text and phone calls. That brought to the surface an even stronger emotional connection between the two. It wasn't all about lust. It was actually a slow build friendship that eventually became a relationship.
Sydney felt safe discussing her ex husband and their marriage issues with Brian. Normally I would find this weird but the way it was written I found it endearing and heartwarming. I actually swooned over Brian Savage.
I loved the two separate stories and how they merged.
While the two were connecting via text they also had their own issues going on. Brian was living with guilt and working a shitty job that he wanted nothing to do with, to try to ease this guilt. Trust me ladies when you find out the reason for Brian's guilt you will completely lose it. Poor guy. When he officially started texting Sydney he decided that job was not fair to her, and even only talking to her twice he wanted to do right by her and gave it up. Another swoon worthy moment.
While Brian was going through his issues, Sydney was living with the fact that her ex husband wasn't the man she thought he was and trying to move on with her life and getting back to the woman she used to be.
I loved the moment Brian and Sydney…..FINALLY…..lock eyes with one another.
Complete and Total SWOON!
But with every perfect book couple, sometimes looks can be deceiving. When Sydney finds out Brian has been keeping a huge secret that has the ability to destroy the perfectly blissful relationship they built, Brian makes it his life mission to make all of his mishaps disappear. Then and only then Sydney has to choose whether she can trust Brian and move on from this issue or disappear from Brian's life completely, because frankly we all know that Brian would never let Sydney go unless she forced the issue and disappeared.
This novel not only had a kick ass slow build relationship between Sydney and Brian, but it also included an amazing friendship between Sydney and Tori. Actually I wouldn't call it a friendship, it was more like a sisterhood. I loved the way Tori and Sydney had each others back no matter what. Those two are very inspiring when it comes to friendships in novels.
I cannot believe it took me this long to read Four Letter Word. If you're like me and was scared to read this because of all the hype that surrounded it when it first released, do not, I repeat do not hesitate to pick Four Letter Word up and give it a go. This novel is seriously amazing. I was completely addicted and consumed by these characters and their stories.
I LOVED FOUR LETTER WORD ❤
Let me know what you thought!
Peace Love and Happy Reading,