WWW Wednesday is a weekly book meme hosted by Sam @ Taking on a World of Words. Every week we answer three questions or as we call them the three W's:
What are you currently reading?
What did you recently finish reading?
What do you plan to read next?
There are quite a few novels that I've picked up and started reading recently,
The first is an ARC of Bare Yourself by Alex Grayson. This is definitely an erotic romance, at this point I'm  20% into this novel and as of right now, I'm really enjoying it. the pace is swift but in a way that doesn't have you questioning what the hell is going on.
My name is Tegan Zander, and I like to… bare myself. Yes, you read that right. It's not only me I want to show off though, but also the lucky person I'm with at the moment. No, I don't go around whipping out my goods and pulling up skirts to flash all the Joe Blows around. Give me some credit, I'm a bit more discreet than that. No, I like to be watched while fucking. I like knowing someone else is in the room, getting off on what me and my partner are doing. This is my sexual vice, and I'm damn proud of it.

What I don't do is relationships. I have too much fun in my bachelor life. I don't want to be tied down to one woman, when there are still so many out there to explore.

Willow Bennett was just a woman I helped on the side of the road. Nothing more, nothing less, even if her hot little body demanded attention from mine. I did my good deed, kissed those sweet lips, ground my jean covered length against her softness, and left, expecting to never see her again.

But then, there she was, in her short skirt, tank top, and flip flops. She didn't know it yet, but she was my next play thing. I was going to expose her along with me. I was going to show her just how good it could be if she lost her inhibitions and let me put her on display.

I don't do relationships, but with this girl, I just might… expose my heart to her
I'm also reading a paperback copy of Hit The Spot by J. Daniels. This is the second novel in the Dirty Deeds series. I am 25% invested in this novel. Oh my lord, I think I'm in love with Jamie McKade. I've found that Jamie and Tori are very unpredictable. I'm loving this novel as of right now.
Is this love or just a game?

Tori Rivera thinks Jamie McCade is rude, arrogant, and worst of all . . . the sexiest man she's ever laid eyes on. His reputation as a player is almost as legendary as his surfing skills. No matter how her body heats up when he's around, she's determined not to be another meaningless hookup.

Jamie McCade always gets what he wants. The sickest wave. The hottest women. And Tori, with her long legs and smart mouth, is definitely the hottest one. He knows Tori wants him-hell, most women do-but she won't admit it. After months of chasing and one unforgettable kiss, it's time for Jamie to raise the stakes.

Jamie promises that soon Tori won't just want him in her bed, she'll be begging for it-and he might be right. Somehow he's found the spot in her heart that makes her open up like never before. But with all she knows about his past, can she really trust what's happening between them? Is Jamie playing for keeps or just playing to win?
I added another novel to my currently reading list last night. I couldn't help it, I seen the cover for the final book in the series and had to pick this up! That would be Fallen Crest Home by Tijan! I'm only three chapters in and I found that I'm still obsessed with this storyline!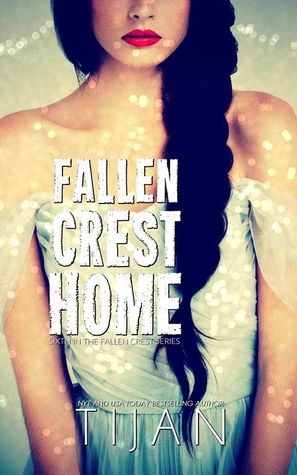 It's been years since my mother was in my life.
I healed.
I learned to accept love.
I lived.
That's all done. She was away, and now she's back.
I avoided her for a year and a half, but I couldn't hide anymore.
Mason had an internship in Fallen Crest, so we headed back for the summer.
And when we got there—no one was prepared for what happened.
I only finished one novel this week, Four Letter Word by J. Daniels. I LOVED THIS BOOK! I mean really loved. I haven't been that into a novel in a long time! Check out my review here -> ❤ REVIEW ❤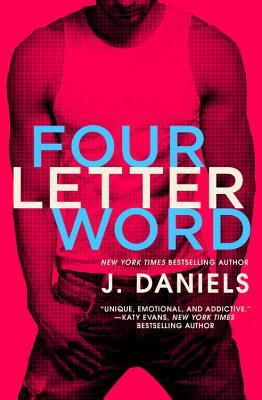 Fate. Hate. Love. Lies.

Which four letter word will change their lives forever?

Sydney Paige was never so mortified to hear the words "wrong number" in her life. She meant to tell off the guy who broke her best friend's heart but unleashed her anger on a perfect stranger instead. And now her world is turned upside down by the captivating man who wants to keep her on the line.

Brian Savage is living a life he's quickly come to hate-until Sydney's wild rant has him hooked and hungry for more. Soon the sexy woman on the phone becomes the lover in his bed. But Brian has secrets, and the closer he lets Syd get, the harder it is to shield her from the devastating mistakes of his past . . .
I have a lot on my plate and I don't think I'll be getting to anymore books this week. I mean come on I'm reading three right now…I'm not wonder woman hehe*. But i do have a few ARCs i have to read that are due coming up soon.
Tyson by Kathy Coopmans

I know what it's like to have your heart split down the middle.
One-half chases her. The other half chases after the lies, deceit, and betrayal.
It's a burning ball of hell.
Seconds, minutes, hours, and years all spent endured the depth of my own burning inferno.
All of it runs together while life passes me by.
Thirteen years ago, the woman I was in love with left me standing at the altar.
Hurt.
Broken.
Humiliated.
Some say thirteen is a lucky number.
Me? I curse the number.
Now she's back.
Reminding me.
Torturing me.
She says things are not what they seem.
That they weren't then either.
Do I believe her?
Do I forgive?
Forget?
Time and truth will tell.
Cheater's Regret by Rachel Van Dyken

Austin Rogers's dreams of domestic bliss involved watching Netflix and eating hot dogs with the love of her life. But then he cheated on her. And dumped her—as if the whole thing was her fault. To maintain her pride and restore her sanity, she decides to get revenge. It feels immensely satisfying to plot her ex's downfall—but so does kissing him.

Thatch Holloway, a plastic surgeon straight out of residency, knows he ruined the best thing that ever happened to him. But not all cheaters are created equal. He got himself into this messed-up situation—true—but he has his reasons for what happened, and he'd do it all again to protect Austin.

He's not over her. And she's not over him.

Austin wants closure, but since Thatch refuses to give it to her, she takes matters into her own hands. She needs to write a human-interest piece for her MBA, so she demands the full plastic-surgery experience. Sparks fly as they're forced to work together. But Thatch isn't afraid to play dirty in return. And he's still hiding something—something that has the power to destroy not only Austin but their second chance at finding forever…
What's on your list?
❤ ❤ ❤
Peace Love and Happy Reading,