WWW Wednesday is a weekly book meme hosted by Sam @ Taking on a World of Words. Every week we answer three questions or as we call them the three W's:
What are you currently reading?
What did you recently finish reading?
What do you plan to read next?
Like last week, I'm currently reading three novels.
The main novel I'm reading is an ARC of Tyson by Kathy Coopmans. Tyson is book 3 in The Saints series. I'm currently 46% into this and so far so good. I'm loving the deep emotion and the connection between Tyson and Lynne. Their story is heartbreaking. The only downside I am finding is some of the scenes feel rushed.
I know what it's like to have your heart split down the middle.
One-half chases her. The other half chases after the lies, deceit, and betrayal.
It's a burning ball of hell.
Seconds, minutes, hours, and years all spent endured the depth of my own burning inferno.
All of it runs together while life passes me by.
Thirteen years ago, the woman I was in love with left me standing at the altar.
Hurt.
Broken.
Humiliated.
Some say thirteen is a lucky number.
Me? I curse the number.
Now she's back.
Reminding me.
Torturing me.
She says things are not what they seem.
That they weren't then either.
Do I believe her?
Do I forgive?
Forget?
Time and truth will tell.
I'm also reading Cheater by Rachel Van Dyken. Cheater is the first novel in the Curious Liaisons series I picked this one up for 99 cents the other day. I'm currently seven chapters into this novel and I'm intrigued. I can't wait to see where this novel takes me. HMMM.
Lucas Thorn wasn't born a cheater. All it took was a single moment—say, a certain disastrous incident on the night before his wedding—and boom. Reputation destroyed forever and always. So now he owns it. He has a lady friend for every night of the week (except Sundays—God's day and all), and his rules are simple: No commitments. No exceptions.

But a certain smart-mouthed, strawberry blonde vixen is about to blow that all to hell.

Avery Black has never forgiven Lucas for cheating on her sister. And suddenly being forced to work with him is pretty much a nightmare on steroids. Of course, it does afford her the opportunity to make his life as difficult as possible. But no good revenge scheme comes without payback. Because he didn't become the Lucas Thorn without learning a few things about women.

Now Avery's lust for vengeance has turned into, well, lust. And if Lucas stops cheating, it's definitely not because he's falling in love…
Since it has been so nice outside lately I've been doing my reading out there. I'm finding that reading on my e-reader outside gives me horrible migraines, so I read my paperbacks outside. I decided to read The Sexy One by Lauren Blakely. I'm finding this to be a very adorable read so far. I'm only five chapters in and I'm already loving this! Also this is my first Lauren Blakely novel!
Let me count the ways why falling into forbidden love is not my wisest move…
1. She works with me every single day.
Did I mention she's gorgeous, sweet, kind and smart?
2. She works in my home.
Playing with my five-year-old daughter. Teaching my little girl. Cooking for my princess. Which means…
3. She's the nanny.
And that makes her completely off-limits… But it doesn't stop me from wanting her. All of her.

***

The other nannies in this city don't call him the Sexy One for nothing. My boss, the amazingly wonderful single father to the girl I take care of every day is ridiculously hot, like movie star levels with those arms, and those eyes, and that body. Not to mention, the way he dotes on his little girl melts me all over. But what really makes my knees weak are the times when his gaze lingers on me. In secret. When no one else is around.

I can't risk my job for a chance at something more… can I? But I don't know how to resist him much longer either…
I finished three books this week.
The first book I finished was an ARC of Bare Yourself by Alex Grayson. I liked this book…but some of the material was way to graphic for a romance novel. I understand you have to dive deep in some novels to really get the point across to the readers especially when it involves a horrible life altering event….but….this topic SHOULD NOT have been given major details. I don't want to hear about a child being molested and I especially don't want to read about the graphic details of the events at hand. I'm sorry but I feel topics like this should be off-limits. Now after careful consideration, I set my views on this subject aside and rated the book as if this topic wasn't detailed. I gave Bare Yourself a 3 out of 5 star rating. My review on this novel will be posted later on.
My name is Tegan Zander, and I like to… bare myself. Yes, you read that right. It's not only me I want to show off though, but also the lucky person I'm with at the moment. No, I don't go around whipping out my goods and pulling up skirts to flash all the Joe Blows around. Give me some credit, I'm a bit more discreet than that. No, I like to be watched while fucking. I like knowing someone else is in the room, getting off on what me and my partner are doing. This is my sexual vice, and I'm damn proud of it.

What I don't do is relationships. I have too much fun in my bachelor life. I don't want to be tied down to one woman, when there are still so many out there to explore.

Willow Bennett was just a woman I helped on the side of the road. Nothing more, nothing less, even if her hot little body demanded attention from mine. I did my good deed, kissed those sweet lips, ground my jean covered length against her softness, and left, expecting to never see her again.

But then, there she was, in her short skirt, tank top, and flip flops. She didn't know it yet, but she was my next play thing. I was going to expose her along with me. I was going to show her just how good it could be if she lost her inhibitions and let me put her on display.

I don't do relationships, but with this girl, I just might… expose my heart to her.
I also finished FALLEN CREST HOME by TIJAN!!!!! OMG…..This series is everything! I love the Fallen Crest world and Sam, Mason, and Logan! What am I going to do when the series is over. I currently have Fallen Crest Forever but I can't read it because I know once I finish it, it will commence the book hangover period and I have way to many arcs to read. As you can tell I obviously loved Fallen Crest Home. I rated this novel 5 out of 5 stars!!!!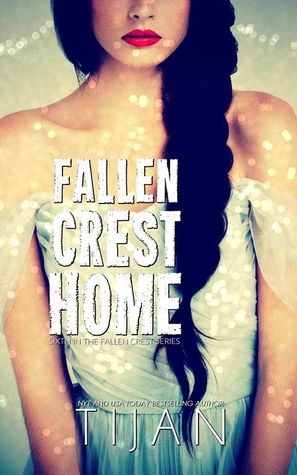 It's been years since my mother was in my life.
I healed.
I learned to accept love.
I lived.
That's all done. She was away, and now she's back.
I avoided her for a year and a half, but I couldn't hide anymore.
Mason had an internship in Fallen Crest, so we headed back for the summer.
And when we got there—no one was prepared for what happened.
I also finished Hit The Spot by J. Daniels. Hit The Spot is the second book in the Dirty Deeds series. I loved Jamie and Tori's story. I loved, not only Jamie's asshole ways, but also the sweet side he showed when Tori needed him. I loved their ridiculously hilarious back and forth moments. I rated Hit The Spot 5 out of 5 stars! Check out my Review HERE!!
Is this love or just a game?

Tori Rivera thinks Jamie McCade is rude, arrogant, and worst of all . . . the sexiest man she's ever laid eyes on. His reputation as a player is almost as legendary as his surfing skills. No matter how her body heats up when he's around, she's determined not to be another meaningless hookup.

Jamie McCade always gets what he wants. The sickest wave. The hottest women. And Tori, with her long legs and smart mouth, is definitely the hottest one. He knows Tori wants him-hell, most women do-but she won't admit it. After months of chasing and one unforgettable kiss, it's time for Jamie to raise the stakes.

Jamie promises that soon Tori won't just want him in her bed, she'll be begging for it-and he might be right. Somehow he's found the spot in her heart that makes her open up like never before. But with all she knows about his past, can she really trust what's happening between them? Is Jamie playing for keeps or just playing to win?
I have three arcs that I'm planning on reading next.
The first is Cheater's Regret by Rachel Van Dyken. Cheater's Regret is the second novel in the Curious Liaison's series. The release date is set for May 23rd!
Austin Rogers's dreams of domestic bliss involved watching Netflix and eating hot dogs with the love of her life. But then he cheated on her. And dumped her—as if the whole thing was her fault. To maintain her pride and restore her sanity, she decides to get revenge. It feels immensely satisfying to plot her ex's downfall—but so does kissing him.

Thatch Holloway, a plastic surgeon straight out of residency, knows he ruined the best thing that ever happened to him. But not all cheaters are created equal. He got himself into this messed-up situation—true—but he has his reasons for what happened, and he'd do it all again to protect Austin.

He's not over her. And she's not over him.

Austin wants closure, but since Thatch refuses to give it to her, she takes matters into her own hands. She needs to write a human-interest piece for her MBA, so she demands the full plastic-surgery experience. Sparks fly as they're forced to work together. But Thatch isn't afraid to play dirty in return. And he's still hiding something—something that has the power to destroy not only Austin but their second chance at finding forever…
The second arc is Sexy Jerk by Kim Karr. Sexy Jerk is set to release on May 25th
My best friend is married.
Everyone I know is married. It doesn't bother me. I like my life the way it is.

Since I'm single though, when my best friend and her husband finally decide to go on their dream honeymoon, she asks me to watch their three-year-old son.

Of course I say yes.

What my best friend neglects to tell me is that I won't be babysitting alone.

Feeling Max might be too much for me to handle, her husband asks his only single friend to help.

Nick Carrington and I have met a couple of dozen times. I've never really given him a second thought—other than to say he's kind of a jerk. Out loud. So he can hear. Sure, he's tall, dark, and handsome. And yes, he has the best ass I've ever seen, and I mean ever seen quite literally. You see he mooned me at last year's Fourth of July barbecue because, like I said, he's a jerk.

He always has to be the life of the party.
He's also arrogant.
Imposing.
Rich.
And a playboy.
I'd even go as far as to say he's a manwhore.

Yet somehow before I know it, this manwhore and I are co-parenting. Living under the same roof. Eating meals together and yes, talking.

Don't look at me like that—it's not like I had a choice. Even though I knew every minute would be hell, I had to say yes.

But after two weeks what I didn't expect to discover is that I'd been wrong about him.
That under his smart-ass exterior, he's quite charming.
That his arrogance is really confidence.
And that the sight of his naked body would do really bad things to me.

So yes, I'd misjudged him. And yes, I like him. Really like him. Although I might still think he's a jerk…I now think he's a sexy jerk.
And I want more of him.

The question is—does he want more of me?
And the third ARC is Only With Me by Kelly Elliot. Only With Me is set to release on May 30th! I am looking forward to reading this one! I can't wait!
Life was great.

I loved my bachelor life and working my dream job with the Colorado Springs SWAT team.

That all changed the day I stepped into her bakery. Her smile swept me off my feet, and her panna cotta was heaven.

Cue my very traditional Greek family.

Then all hell broke loose.

The woman I was falling in love with was Italian, and my mother was hell-bent on proving to the world she was the better cook.

If my meddling family wasn't bad enough, for the last six years Gabi had been on the run from a past she tried desperately to escape from.

Between a beautiful woman on the run, and a crazy family constantly in my business, would I be able to show her I'm the only one who can keep her safe … or will her past steal her away from me?
What are you reading this week?
❤ ❤ ❤
Peace Love and Happy Reading,