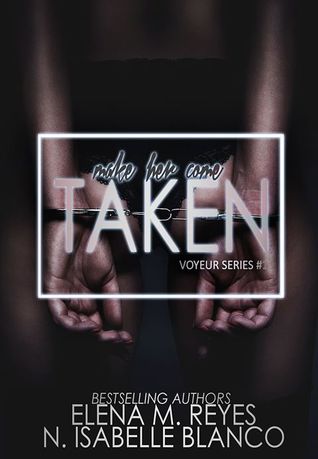 Title: Taken
Series: Voyeur #1
Author: N. Isabella Blanco & Elena M. Reyes
Genre: Dark/Erotica
Publication Date: May 24th 2017
My Rating: ✮✮✮✮
Synopsis:
I was drugged.
Now, I've woken up in a dark, luscious room.
A deviant playground.
I'm not alone.
The person that was drugged and taken with me is here, too.
My confidant.
Someone that I had come to see as a brother.
My best friend.
Suddenly, there's a voice coming through the speakers, telling us we've both been chosen to die.
The only way out? Do everything we're told to do.
This person wants to watch us. They want to be entertained. As she says, "I want to see you come."
It's simple: either we f*ck, or die
WARNING…
Taken is a severely dark and gritty Novella….
If you have a weak stomach, this novella is not for you.
If you cringe at the thought of blood and uncomfortable situations….this novella is not for you.
If you do not enjoy feeling like a total psychopath after reading said novella….turn around and look elsewhere because this novella is not for you.
But..
If you want to be a REBEL and say Fuck it, I'm reading this dark and gritty novella EVEN THOUGH it is outside of my comfort zone..(That's pretty KICKASS and I admire you tenacity)…but…YOU HAVE BEEN WARNED!
***
Taken is book one in the Voyeur Series.
I feel like a total psychopath due to the fact that this novel dug its razor sharp claws in me and wouldn't let go until I finished! I read this in one sitting and in under an hour!
Ivy and Noah..two best friends…wake up to find they've been drugged, kidnapped, and are now being held in what I can only describe as a sex dungeon. This mystery slowly starts to unravel as a creepy mysterious woman's voice starts ordering them to take part in her demands. Very SEXY demands.
Taken reminds me of the movie saw; only instead of cutting arms and legs off in order to save themselves, Noah and Ivy have to follow this creepy woman's orders to survive. If they slip up and refuse, they are punished.
As I stated above. I feel like a total psychopath, because even though I literally cringed throughout this novella, I loved it and couldn't put it down. The intensity between the characters and the torture they endured was through the charts crazy!
The fear was lifelike!
I need the next book….right now…..I need to know what happens!!!!!
Peace Love and Happy Reading,