WWW Wednesday is a weekly book meme currently hosted by Sam @ Taking on a World of Words! Each week we answer the three W's:
What are you currently reading?
What did you just finish reading?
What are you planning to read next
Let's get started!
I'm almost finished reading Pet by Isabella Starling…..OMG, this novel is literally pushing past all my comfort zones. If you all liked Sordid by Nikki Sloane then you are going to love this. I'm on chapter 33 and I have absolutely no clue where this novel is leading me. The suspense is killing me!
Pet
(A Dark Menage Romance)
Blurb:
My name is Pet. My story is going to break your heart.
The first thing you should know about me, is that I'm a good girl.
I follow directions. I bend at the waist. I do anything and everything my King tells me to.
But King is demanding. King is dangerous. He wants to hurt me.
And there is only one person who can help me run away from King…
Except I don't know if I want to leave him. I don't know if I can.
Good pets always obey their master… But what if I want to have two?
PET is a standalone 95,000 word novel. This is a DARK romance!
---
I am also currently reading an arc of Night Games by Alexis Anne! I am absolutely loving this novel! Whats not to love about a hot as hell man that is infatuated with a cat! What happens in Vegas, doesn't always stay in Vegas. Yep this is that type of novel! This is also book six in a series. I unfortunately didn't know that at the time I requested this arc….BUT GOOD NEWS….this can totally be read as a standalone! However, I am intrigued by some of the secondary characters and plan on reading the series…..Eventually.
Publication Date: June 29th
Blurb:
Baseball's biggest player is about to get played.
WES
I love women and women love me.
It's not my fault I'm irresistible. Okay, I may be a little cocky too.
All I have to do is post a picture of myself shirtless with my cat, Snickers, and the women flock to me.
It probably helps that I'm good with my bat and balls.
A selfie, a smile, and I have them in bed—but never in a relationship.
Until Carrie entered the game.
She may not know it, but she owns me. And I'm not letting her go.
CARRIE
I'm a professional. No, not THAT kind of professional.
I'm an orthopedic physician for the St. Pete Mantas and my job is everything.
I love the game and I love my players … but I never fall in love with any of them.
Especially not players like Wes. Especially Wes.
He thinks life is one big game.
One sexy, romantic, and sometimes sweet, game that's left me confused and little bit worried…
I may have actually fallen for the ultimate player.
I'll have to beat him at his own game if I have any shot at walking away with my heart intact.
I  read three books this week 2 were 4 star reads and one was a five star!
The first one I finished was a paperback of Ace's Redemption by A.C. Bextor! I really did love this book, I loved Ace from way back in the Lights of Peril series so i was excited to grab this novel and finally read it. Ace and Cherry leave the Peril behind and are now in California where Ace is trying to mend his heartbreak over Sadie and Cherry is trying to stay sober in order to get her son back. Cherry has always loved Ace but Ace was in love with Sadey. I loved how Cherry didn't pressure Ace into being with her. They were friends first. 
Synopsis:
Cherry
Memories alone can ruin you. Fear has a paralyzing effect, and love isn't always enough to keep you safe.
Ace was the gateway to a freedom I hadn't known since I was fifteen. He offered his protection from the demons that haunted me; both living and dead.
Although I knew I wasn't enough to keep him, this didn't deter my hope that one day he'd love me for who I was, not the broken girl he tried so desperately to save.
In the end, the ghosts of my past found me. Their malevolence knew no bounds, and I was forced to succumb to their will of darkness. Each threat named against those I loved made any escape impossible; choosing my life for theirs became my desolate absolution.
Inevitably, it was my own weakness and self-doubt that became my undoing.
Ace
Emotional ties are sometimes severed. Friendships don't always endure their hardships, and love offered isn't always returned.
I was in love once. For me, leaving her back in Ohio was the hardest thing I've ever had to do. For her, moving on with her life that included her son and the man she loved was no less than she deserved — unconditional happiness.
My reasons to bring Cherry home to California were obvious. I needed help with my family, and she needed help staying clean and convincing her parents she was ready to give her son the life he deserved.
It was a perfect plan. However, the best laid plans often get lost amidst their best intentions.
Cherry fell in love with me, and in return my love for her acted as the catalyst to her destruction.
---
I also finished an ARC of Bound By Desire by: Ryan Michele! This is the second book in the Ravage MC Bound series which is a spinoff from the Ravage MC series. THis is Deke's story. Deke is the son of GT and Angel. I enjoyed the hell out of this novel. Deke left the Ravage MC four years ago when his family practically turned their backs on him due to his drug use. Now he finds his cousin Austyn on his doorstep with a busted lip and bruised face. He returns her to the one place he swore he'd never step foot in again. When he returns he gets the welcoming he was expecting. But what he wasn't expecting was to set eyes on Rylie. I loved this 'kindred spirit' type novel. Both Rylie and Deke are fighters and both have had similar backgrounds. This was perfect, i just wish it would have should more of Rylie's badass side.
Publication Date: June 20th, 2017 (NOW LIVE)
Synopsis:
Have you ever wanted something so badly it consumes you?
There is a fine line between needs and wants.
Deke Gavelson has wanted his Ravage cut for as long as he can remember. He's earned it. He was born to be in this club. He's not afraid to fight for his place, either.
Then she barreled into his world, and Deke suddenly desires something more than his rag and winning the next round.
Rylie Hollister has lived through hell and back. Each event makes her the strong, independent woman she is today. Until a bitter underground fighter threatens to turn her plans upside down.
These two are bound by their desires, but oh, how that changes when his intensity meets her passion.
---
I also finished an arc of Kash by Victoria Ashley….OMG….KASH is literally the holy grail of all hotness! He's not only kindhearted and swoonworthy, but he's also Fierce and Very Protective of the ones he loves. Sigh….the moments this man spends with Eden's  five year old Alec will have your heart melting! Kash is a male entertainer for The Walk of Shame and a fighter in an underground fighting ring. He does this so he can earn money to fulfill his late father's and his dreams they shared of one day co-owning a training gym. I Loved Kash and I highly recommend this novel!
Kash


(Walk Of Shame 2nd Generations #3)
Publication Date: June 16th, 2017 (NOW LIVE)
Blurb:
My name is Kash Knight and I'm a fucking protector…
It runs deep in me, this need to dedicate myself to a woman and make her feel secure and cared for in every single way. Not just physically, but emotionally.
But when women see my hard body, all they want is for me to pleasure them and give them their ultimate fantasy. I need something more though, someone I can give my heart to.
And when my eyes land on the sassy blonde that seems too busy to put her needs first, I know without a doubt that it's her I want to take out and show what it feels like to go out with a real man.
To be touched by a real man.
Eden Quinn…
I need a chance for her to see me as something other than just a male fucking stripper– a dirty temptation that knows how to make a whole room of women hot and wet.
Slowly, I begin to work my way in and when I find out she has a son that means more to her than life itself, I want so much more than I ever could've fucking imagined.
I want to take care of them and show Eden what it's like to be safe and protected.
I'm making her mine and nothing is going to stand in my way… not even him
I have one more arc due this month. I think i'm going to also catch up on my July arcs. So i plan to read The Director and The Don Juan by Katy Regnery next. Then after that I plan on reading Jilted by Sawyer Bennett!
Publication Date: June 30th, 2017
Blurb:
From New York Times bestselling author Katy Regnery comes a brand new series set on Blueberry Lane!
The Director and Don Juan is the second of four books about the Philadelphia-based Story sisters who are all on the look-out for love.
Heiress Alice Story left her father's company three years ago in a blaze of glory, inviting all of his employees to jump ship and join her, but only one accepted her offer: mail room clerk, Carlos Vega.
While Alice spent the next three years getting her own company off the ground, Carlos became her indispensable right-hand man — executive assistant and office manager, loyal counsel and trusted co-worker.
And all the while, they were quietly falling in love with each other.
When Alice is offered a lucrative business deal in Puerto Rico, island-born Carlos is the perfect person to accompany her on her trip as translator. But as they travel together from Philadelphia to Santo Domingo to Ponce, two unlikely co-workers will discover that their feelings for each other have grown far deeper than they ever could have guessed.
And though business-minded, proper Alice will try her very best to ignore the longings of her heart, scorching hot, insanely sexy Boricua, Carlos, has no intention of letting her go.
---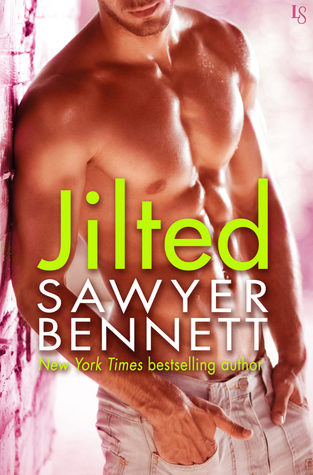 Jilted
(Love Hurts #2)
Publisher: Loveswept
Publication Date: July 11th, 2017
Blurb:
Hollywood hath no fury like a woman scorned. In this fun, flirty second-chance romance from New York Times bestselling author Sawyer Bennett, an aspiring starlet reconnects with her first love.
Eden Goodnight went to Los Angeles to make it big, not to be publicly humiliated by her cheating fiancé at a red-carpet premiere. But when Eden returns to her hometown to put the scandal behind her, she can barely find a sympathetic shoulder to cry on. Turns out the locals are worse than the paparazzi, and they all think she's turned into a spoiled brat. But in a strange twist of fate, the one person who seems to understand what Eden's going through is Cooper Mayfield . . . the boy she left behind.
Small-town charm is no match for the glitz and glamour of Hollywood. At least that's what Coop's been telling himself all these years. As Eden's old flame—and the landscaper for her family's historic home—Coop feels some responsibility for getting her out of her funk. But as soon as he sees that million-dollar smile, he's a goner. Soon they're making out like teenagers again. But when a life-changing role falls into Eden's lap, Coop just hopes she doesn't give up on a love that's meant to be.
---
What are you reading this week?
Peace Love and Happy Reading,