Hello everyone and welcome back to another WWW Wednesday!
For those that don't know, WWW Wednesday is a weekly book meme currently hosted by Sam @ Taking on a World of Words! Each week we answer the three W's:
What are you currently reading?
What did you just finish reading?
What are you planning to read next
Let's get started!
I am currently reading an ARC of 'Whispered Prayers of a Girl' by 'Alex Grayson'. I am only 8% into this novel and I have a feeling it is going to completely break me. Oh lord help me. This is perfect though, I've been looking for a novel that is pure angst and toys with my emotions. So far, so good!
Publication Date: July 10th, 2017
Blurb:
A tortured soul meets a damaged family…
A lonely man, a widowed woman, a carefree boy, and a broken girl… Can the four come together and help heal each other? Or will fear of the unknown and guilt about the past keep them apart?
Her whispered prayers break her…
At night, as she's drifting off to sleep, I press my ear to the door and listen to her heart-wrenching pleas. Her words are agony to my healing heart, but I cherish the sound of them, for that's the only time I ever hear my beautiful daughter speak. Since her father died two years ago, she's grown quiet and withdrawn. Cat's Valley was to be our new beginning, a place where my family and I can heal, but what we find there is so much more.
Scars mar his body. Pain has left him in pieces…
Four years ago, I lost the two things I cherished most in the world. They were ripped from my arms in the most painful and cruel way. Since then, I've kept to myself, preferring to stay away from the pitying looks and murmured rumors. Everything changed when she and her children barged into my life. It was an accident, and I don't deserve them, but now that they're here, I'm not sure I can let them go.
I just finished an ARC of The Director and The Don Juan by Katy Regnery…I wanted to love this novel, especially because The bohemian and The Businessman by Katy Regnery is high up on my 2017 favorites list…but sadly, I didn't love it. The biggest downfall with this novel is, I had difficulty connecting with the characters. I felt nothing from them until I reached the 60% point. It could also be the fact that I had  strong expectations from Alice's character. Don't get me wrong, I'm not saying I extremely loathed this novel or anything. I was just expecting to love it.
Publication Date: June 30th, 2017
Blurb:
From New York Times bestselling author Katy Regnery comes a brand new series set on Blueberry Lane!
The Director and Don Juan is the second of four books about the Philadelphia-based Story sisters who are all on the look-out for love.
Heiress Alice Story left her father's company three years ago in a blaze of glory, inviting all of his employees to jump ship and join her, but only one accepted her offer: mail room clerk, Carlos Vega.
While Alice spent the next three years getting her own company off the ground, Carlos became her indispensable right-hand man — executive assistant and office manager, loyal counsel and trusted co-worker.
And all the while, they were quietly falling in love with each other.
When Alice is offered a lucrative business deal in Puerto Rico, island-born Carlos is the perfect person to accompany her on her trip as translator. But as they travel together from Philadelphia to Santo Domingo to Ponce, two unlikely co-workers will discover that their feelings for each other have grown far deeper than they ever could have guessed.
And though business-minded, proper Alice will try her very best to ignore the longings of her heart, scorching hot, insanely sexy Boricua, Carlos, has no intention of letting her go.
---
I also finished an ARC of Night Games by Alexis Anne. I really enjoyed this novel and even though it is the 6th book in a series, it can be read as a standalone. I loved Wes and Carrie. Their relationship was a whirlwind romance that's for sure! 
Publication Date: June 29th
Blurb:
Baseball's biggest player is about to get played.
WES
I love women and women love me.
It's not my fault I'm irresistible. Okay, I may be a little cocky too.
All I have to do is post a picture of myself shirtless with my cat, Snickers, and the women flock to me.
It probably helps that I'm good with my bat and balls.
A selfie, a smile, and I have them in bed—but never in a relationship.
Until Carrie entered the game.
She may not know it, but she owns me. And I'm not letting her go.
CARRIE
I'm a professional. No, not THAT kind of professional.
I'm an orthopedic physician for the St. Pete Mantas and my job is everything.
I love the game and I love my players … but I never fall in love with any of them.
Especially not players like Wes. Especially Wes.
He thinks life is one big game.
One sexy, romantic, and sometimes sweet, game that's left me confused and little bit worried…
I may have actually fallen for the ultimate player.
I'll have to beat him at his own game if I have any shot at walking away with my heart intact.
---
There is no way in hell that i will be finishing up my paperback TBR this month, so for the most part I'm trying to stay ahead of the ARC schedule that I have. Next month I have a ton of ARC reviews that are due so for the remainder of June I plan on reading those on my list.
I realize I had this on my 'READING NEXT' list last week, but looking through my schedule I found I had other ARCs due before this one. But, I plan on reading Jilted by Sawyer Bennett next! OMG, I literally have been waiting and waiting to read this bad boy!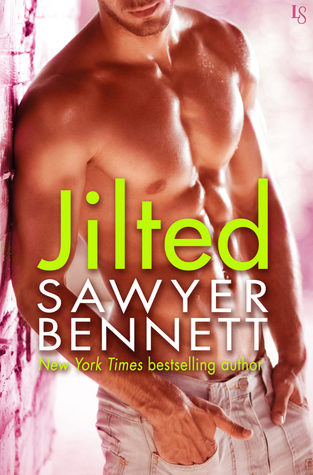 Jilted
(Love Hurts #2)
Publisher: Loveswept
Publication Date: July 11th, 2017
Blurb:
Hollywood hath no fury like a woman scorned. In this fun, flirty second-chance romance from New York Times bestselling author Sawyer Bennett, an aspiring starlet reconnects with her first love.
Eden Goodnight went to Los Angeles to make it big, not to be publicly humiliated by her cheating fiancé at a red-carpet premiere. But when Eden returns to her hometown to put the scandal behind her, she can barely find a sympathetic shoulder to cry on. Turns out the locals are worse than the paparazzi, and they all think she's turned into a spoiled brat. But in a strange twist of fate, the one person who seems to understand what Eden's going through is Cooper Mayfield . . . the boy she left behind.
Small-town charm is no match for the glitz and glamour of Hollywood. At least that's what Coop's been telling himself all these years. As Eden's old flame—and the landscaper for her family's historic home—Coop feels some responsibility for getting her out of her funk. But as soon as he sees that million-dollar smile, he's a goner. Soon they're making out like teenagers again. But when a life-changing role falls into Eden's lap, Coop just hopes she doesn't give up on a love that's meant to be.
---
I also plan on reading an ARC of Biker B*tch by Andie J. Christopher. I received this arc via netgalley. I have no clue what it's about, but I love MC Romance novels and this cover jumped out at me while browsing one day. Andie J. Christopher is also a new-to-me author. 
Publication Date: July 11th, 2017
Blurb:
Skyler Clark knows she'll have to face her past when returns to the Russian River Valley to make pinot noir. People in the small town where she grew up haven't forgotten her father – a country doctor turned outlaw motorcycle club president – and his fall from grace. But as long as she keeps her own business squeaky clean and stays away from bikers, she'll be fine.
Abner Travis sold his family's vineyard and winery to build up his business. And he's the president of a clean motorcycle club that does things the overburdened sheriff's department can't. He's too busy making sculptures for Hollywood directors and quietly sabotaging meth labs to chase a woman. But now that Skyler's all grown up, he wants her for his own. He just has to convince her that their dark, shared history shouldn't get in the way.
Travis is the one thing Skyler can't resist, but she doesn't believe they can last. When her father's old club puts Skyler's business and safety at risk, she has to decide whether to place her trust in Travis or to walk away. And Travis has to decide how much he'll give up to keep the woman he loves.
---
The last ARC I plan to read this week (hopefully) is 'KISS MY BOOTS' by 'Harper Sloan'. I cannot wait to get back into this world! 
Publisher: Pocket Books
Publication Date: July 18th, 2017
Blurb:
In this second of the sultry, Western-set Coming Home series from New York Times bestselling author Harper Sloan, Quinn Davis might finally have a shot at her own happily-ever-after—but will she let love in, or will she tell it to go ahead and kiss her boots?
Quinn Davis prefers to live her life quietly. She's the stereotypical tomboy with two overprotective big brothers who have always been there to protect her, especially from devilishly handsome cowboys with silver tongues. That is, until Tate Montgomery comes riding into town. Their first meeting, however, is far from something out of a fairy tale and only further convinces Quinn that men aren't worth her time.
The only place Tate Montgomery ever truly felt at home growing up was during the long, sweltering summer months he spent at his Gram and Paw's farm in Pine Oak, Texas. Now, Tate has returned to his childhood sanctuary seeking a fresh start—but if he's being entirely honest, he's not just back for the wranglers and Stetsons. During those summers, Quinn was a friend-turned-young-love who Tate lost when life threw him a curveball and he cut all ties to his past; but all it takes is one glance at the raven-haired beauty he did his best to forget for him to realize just how much he's been missing….
What are you reading this week?
Peace Love and Happy Reading,