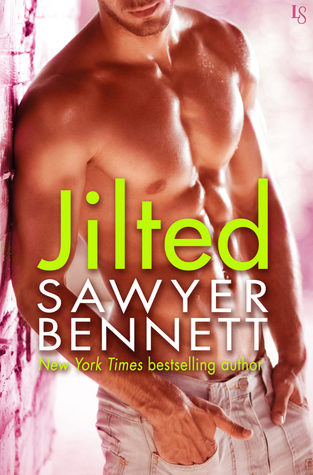 Title: Jilted
Series: Love Hurts #2 (Standalone)
Author: Sawyer Bennett
Genre: Contemporary Romance/ Second Chance
Publisher: Loveswept
Publication Date: July 11th, 2017
My Rating: ✮ ✮ ✮ ✮ ✮
Synopsis
Sawyer Bennett's brand new series of standalone romances! LOVE HURTS!
Hollywood hath no fury like a woman scorned. In this fun, flirty second-chance romance from New York Times bestselling author Sawyer Bennett, an aspiring starlet reconnects with her first love.
Eden Goodnight went to Los Angeles to make it big, not to be publicly humiliated by her cheating fiancé at a red-carpet premiere. But when Eden returns to her hometown to put the scandal behind her, she can barely find a sympathetic shoulder to cry on. Turns out the locals are worse than the paparazzi, and they all think she's turned into a spoiled brat. But in a strange twist of fate, the one person who seems to understand what Eden's going through is Cooper Mayfield . . . the boy she left behind.
Small-town charm is no match for the glitz and glamour of Hollywood. At least that's what Coop's been telling himself all these years. As Eden's old flame—and the landscaper for her family's historic home—Coop feels some responsibility for getting her out of her funk. But as soon as he sees that million-dollar smile, he's a goner. Soon they're making out like teenagers again. But when a life-changing role falls into Eden's lap, Coop just hopes she doesn't give up on a love that's meant to be.
✮ ✮ ✮ ✮ ✮
OMG….Talk about swoon!
Cooper Mayfield is the whole package. He is a true southern gentleman with a dirty side!
Fourteen years ago Eden and Coop parted ways and ended their relationship on mutual terms. Eden lived on to be a famous Hollywood starlet while Coop stayed in their hometown and made a name for himself as a Landscape Architect.
When Eden decides to take time off and come home for a much-needed vacation away from Hollywood and her jerk of an ex fiance, she finds herself stepping into an even bigger problem, one that comes in the form of her even sexier ex-boyfriend Cooper.
When she finds the only man she's ever really loved living in her house. A house that her grandmother willed to them both before she passed away. The two have to learn to co-exist all over again. Quickly realizing that they never truly got over each other.
After all the lies Eden's ex-fiance has spread about their bedroom time. Eden is feeling insecure and curiosity wins over common sense. She makes Coop an offer he….couldn't refuse. The two agree to 'Rebound Sex'. That's it, no relationship means no hurt feelings in the end….YEAH RIGHT. like that ever works.
I love second chance romances, so when I found out Jilted was a second chance…I was all in. This novel is hilarious. I loved the back and forth between Coop and Eden. Especially when they were fighting over who gets the master suite. Jilted was fun to read. Cooper and Eden where each other's firsts so to see them together after they've both had 'experience' and think that feelings of love and all that wouldn't be involved was a fuse waiting to ignite!
This novel has a few angst type scenes but for the most part it is a fun and somewhat light read. The sexy times are spot on. I loved Cooper. What's not to love about a wild man though! Also when it comes to sexy times and this author. I love the fact that she doesn't draw out every single sexy time scene in her novels. Some scenes are worth going into detail but not all of them and Sawyer Bennett hit that spot on. The story itself wasn't overshadowed. I fell, when it comes to romance novels, the author's make the sex the pivotal points in novels when it shouldn't be. I need a deeper connection between the two main characters and with Jilted, I get exactly that.
I loved Jilted and I can't wait to read more from Sawyer Bennett in the future!
I highly recommend!
*Arc received through Netgalley via the publisher for an honest review*
Amazon | B&N | iBooks | Google Play | Kobo
Peace Love and Happy Reading,