I am beyond excited for all the new July Releases this month. It looks like July is going to be a busy reading month. Here are the novels I'm highly anticipating!
---
Exp. Publication Date: July 4th, 2017
Synopsis:
I look her body up and down as I circle her.
Mine?
I smile a devious, deviant, I'm gonna make you sorry you ever started playing this game with me smile.
And then I take her hand.
I lead her to the elevator.
We go up to my apartment.
I tie her wrists together with rope.
Raise her arms above her head.
And chain her to the ceiling.
It's my turn.
---
Because Of Lila
(Sea Breeze Meets Rosemary Beach #2)
Exp. Publication Date: July 11th, 2017
Synopsis:
Prim, proper, classic good girl, and her least favorite label – icy.
Lila Kate Carter has heard them all. The last one, being the newest. She is not icy. She just doesn't care for Cruz Kerrington and his spoiled, selfish, careless ways. That doesn't make her icy, that makes him a jerk!
Tired of being labeled and doing what is expected of her, Lila Kate leaves Rosemary Beach, Florida ready for an adventure. Wanting to recreate herself, find a new path, and become something more.
Eli Hardy is tired of women who always act the same, do the same thing and expect the same thing. He's ready to swear off women until he can get the rest of his life together.
Two weeks into his no-women-rule he meets Lila. She's so damn sweet and polite. Like she walked right out of an etiquette book. But he'd already been drunk before she walked in so there was a good chance she might not be as stunning and perfect as he thinks. He's just too drunk to worry about that.
The next morning, he swears he can still smell her on his skin. He just can't remember why or what happened after that third dance.
Their worlds are about to collide, and so are the secrets and lies
---
Exp. Publication Date: July 17th, 2017
Synopsis:
A sexy new standalone from #1 New York Times bestselling author, Vi Keeland
The first time I met Caine West was in a bar.
He noticed me looking his way and mistakenly read my scowling as checking him out.
When he attempted to talk to me, I set him straight—telling him what I thought of his lying, cheating, egomaniacal ass.
You see, the gorgeous jerk had wined and dined my best friend–smooth talking her into his bed, all along failing to mention that he was married.
He deserved every bit of my tongue-lashing and more for what he'd done.
Especially when that lazy smile graced his perfect face in response to my rant.
Only it turned out, the man I'd just told off wasn't the right guy.
Oops. My mistake.
Embarrassed, I slunk out without an apology.
I was never going to see the handsome stranger again anyway, right?
That's what I thought…until I walked into class the next morning.
Well, hello Professor West, I'm your new teaching assistant.
I'll be working under you…figuratively speaking.
Although the literal interpretation might not be such a bad thing—working under Professor West.
This was going to be interesting…
---
Exp. Publication Date: July 18th, 2017
Synopsis:
Stella Santos is fine.
Maybe something terrible happened to her that she can't even remember. And maybe it drives her crazy when her friends treat her like she's on the verge of breaking because of it. Maybe it feels even worse when they do what she asks and pretend that it never happened at all. And maybe she's been getting harassing emails and messages for months from people who don't even know her, but hate her all the same.
But none of that matters because she's just fine.
For Ryan Blake, Stella was always that girl. Vibrant and hilarious and beautiful. He wanted her as his best friend. His more than friends. His everything and anything that she would give him. Which these days is a whole lot of nothing. She gets angry when he's there. Angry when he's not there. Angry when he tries to talk and when he doesn't.
When Stella devises an unconventional art project for one of her classes all about exploring intimacy—between both friends and strangers—Ryan finds himself stepping in as guinea pig after one of her subjects bails. What was supposed to be an objective and artistic look at emotion and secrets and sex suddenly becomes much more personal. When he hits it off with another girl from the project, Stella will have to decide if she's willing to do more than make art about intimacy. To keep him, she'll have to open up and let herself be the one thing she swore she'd never be again.
Vulnerable.
---
Exp. Publication Date: July 18th, 2017
Synopsis:
Being young is all about the experiences: the first time you skip school, the first time you fall in love…the first time someone holds a gun to your head.
After being held hostage during a robbery at the local convenience store, seventeen year old Edie finds her attitude about life shattered. Unwilling to put up with the snobbery and bullying at her private school, she enrolls at the local public high school, crossing paths with John. The boy who risked his life to save hers. While Edie's beginning to run wild, however, John's just starting to settle down. After years of partying and dealing drugs with his older brother, he's going straight—getting to class on time, and thinking about the future.
An unlikely bond grows between the two as John keeps Edie out of trouble and helps her broaden her horizons. But when he helps her out with another first—losing her virginity—their friendship gets complicated.
Meanwhile, Edie and John are pulled back into the dangerous world they narrowly escaped. They were lucky to survive the first time, but this time they have more to lose—each other.
---
Publisher: Forever
Exp. Publication Date: July 18th, 2017
Synopsis:
Wrecked is the new standalone novel of deliciously dark, deeply emotional contemporary romance from J.B. Salsbury, the New York Times bestselling author of Split and The Fighting Series.
When Sawyer's sister died, she had one wish: that Sawyer live life to the fullest. Now Sawyer is giving into her fate with the flip of a coin – heads or tails? Searching for her flight at the airport, Sawyer bumps into a handsome stranger…and suddenly fate doesn't seem so scary.
Aden Colt is ticking time bomb. After leaving the Marines, unpredictable flashbacks, a hair-trigger temper, and paranoia make adjusting to civilian life hell. But he can't seem to keep his distance from Sawyer. Even the best intentions can't rid a soul of its scars, and between the two of them, Sawyer and Aden have more than their share of wounds…
---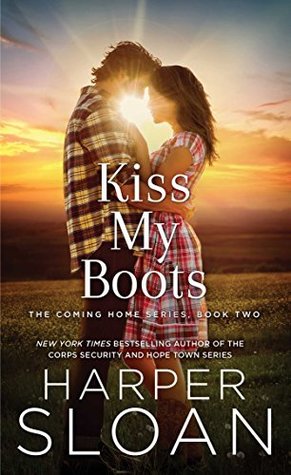 Publisher: Pocket Books
Publication Date: July 18th
Blurb:
In this second of the sultry, Western-set Coming Home series from New York Times bestselling author Harper Sloan, Quinn Davis might finally have a shot at her own happily-ever-after—but will she let love in, or will she tell it to go ahead and kiss her boots?
Quinn Davis prefers to live her life quietly. She's the stereotypical tomboy with two overprotective big brothers who have always been there to protect her, especially from devilishly handsome cowboys with silver tongues. That is, until Tate Montgomery comes riding into town. Their first meeting, however, is far from something out of a fairy tale and only further convinces Quinn that men aren't worth her time.
The only place Tate Montgomery ever truly felt at home growing up was during the long, sweltering summer months he spent at his Gram and Paw's farm in Pine Oak, Texas. Now, Tate has returned to his childhood sanctuary seeking a fresh start—but if he's being entirely honest, he's not just back for the wranglers and Stetsons. During those summers, Quinn was a friend-turned-young-love who Tate lost when life threw him a curveball and he cut all ties to his past; but all it takes is one glance at the raven-haired beauty he did his best to forget for him to realize just how much he's been missing….
---
Sin
(Vegas Nights series #1)
Publisher: Self Published
Publication Date: July 18th
Blurb:
New York Times bestselling author, Emma Hart, brings the heat and heart in a brand-new series of sexy standalone novels, starting with SIN…
Damien Fox lived up to his name.
Cunning, sly, and dangerous, fifty percent of Vegas' strip clubs were his.
Whatever he wanted, money, attention, women, he got.
And now he wanted to buy my bar, no matter the cost.
I wanted him to go to hell on a first-class ticket.
He played a dirty game, and I followed his rules. I let him think he would win.
Despite our differences, it was clear to see that we were no more than two broken hearts colliding in the darkness.
Closed off, sexy, and holding a pain that would crush a lesser man, he was the ultimate sin.
One I couldn't deny myself, even though I knew better than to trust a fox…
---
Publisher: Self Published
Publication Date: July 19th
Blurb:
My life was ash. Burned to the ground. Razed with no chance of rebuilding.
Empty.
Alone.
Just as I had to be.
No one else was going to get hurt because of me. No more deaths.
For years I've secluded myself, stayed in the darkness, and tried to melt into the background. Hiding in plain sight.
Taking a new job, working in close confines with a new partner, is risky, and I thought I was up to the task. So I hide behind a mask of my own making, a façade for the world.
The problem is, I can't stop thinking about my new partner. I hate her, but I crave her like she's the most intoxicating thing I've ever encountered.
It's maddening, but I need to stay away. I have to stay away.
I can't love anyone ever again.
---
What July new releases are you anticipating?
Pea

ce Love and Happy Reading,