WWW Wednesday is a weekly book meme now hosted by Sam @ Taking on a World of Words! The rules are simple, just answer the three W's!
The Three W's:
What are you currently reading?
What did you just finish reading?
What are you planning to read next
Let's get started!
Right now I'm currently reading an ARC of Reminding Avery by Kaylee Ryan. This novel starts off with a really freaking adorable first love vibe that I couldn't get enough of. Soon though the vibe switched to second chance romance. I am currently 78% into this novel and I am loving it!
Publisher: Self Published




Publication Date: August 8th
Synopsis:
Most of the guys in my town had me marked as off limits. My dating history was slim to none, until Dylan. He didn't let labels deter him from sweeping me off my feet.
The day Avery Stanton took a chance on me is that day my life changed. Nothing else mattered but her. All I ever wanted was for her to be happy. I just wanted to love her, no matter how much distance was between us.
Dylan Knight wrecked me. He made me fall in love with him and then took it all away. Now I'm back, and I can't deal. How do I pretend that he no longer owns my heart when all my heart does is scream his name?
Avery's back and I know I have a fight on my hands. I remember every minute, every touch, every kiss, and every breath of our time together. Now I need to remind her.
I recently finished reading an ARC of Forever Hearts by CJ Martin! I really enjoyed this best friends to lovers novel. It was filled with angst and moments that had me laughing and smiling. CJ Martin is an incredible author that knows how to write strong characters and strong relationships! 4/5 STARS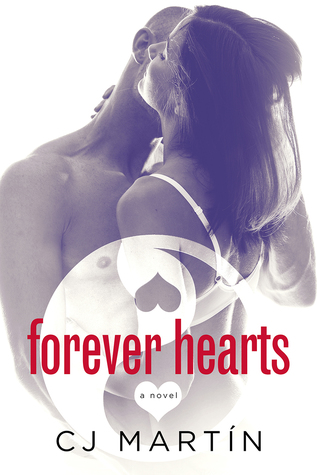 Publisher: Self Published
Publication Date: August 3, 2017


ARC received from the author
Synopsis:
Best friends aren't meant to fall in love with each other…
From the time I was five, Jesse Collins was my world. He was my partner in crime. My best friend. My confidant.
We were inseparable. Soul mates. Forever hearts. But all that changed when he took on a new role. Lover.
He told me to trust. To have faith. To believe in our love.
And I did.
But we all eat lies when the heart is hungry. And mine was damn hungry for Jesse Collins. I couldn't stop myself from falling for him, even if I wanted to.
This is our story. The good. The bad. The heartbreaking.
But in the end, will the thread that binds us together be strong enough to weather the storm?
I used to think so, but now I'm not quite as sure…
I plan on reading three books this week! This is going to be EXTREMELY difficult since I have so much going on this week. The first novel I need to read is an ARC of Hold Me Close by Vanessa Vale. I will be starting this ARC tonight as soon as I finish up the novel I'm reading right now. I am so excited to get into Hold Me Close. I read the first chapter when it first appeared on my kindle and I feel in insta love with this story! Hold Me Close is also a menage novel so that guarantees double the amount of STEAMY SEXY TIMES! (No M/M)
Publisher: Self Published
Publication Date: August 10th
ARC Received through L. Woods PR
Synopsis:
Rachel wants one thing in life, a family of her own. But she's not going to get it without a man. Or can she?
They may have ruined their chances in the past, but Matt and Ethan know Rachel's the woman for them. When they discover her plans, they tell her they'll give her exactly what she wants. The old fashioned way. Because once they get their hands on her, they'll hold her close and never let go.
Warning: Panty melting! Hold Me Close is book 4 in the wildly dirty series where two obsessed alpha cowboys give the woman of their dreams exactly what she desires. This standalone HEA is all about her – no M/M.
Next on my ARC list is Ride Me Right by Michele De Winton. I received this arc through netgalley. I'm excited to read this because it's a MC Romance and because the author is new-to-me! I love reading and finding great new-to-me authors. Here's to hoping this novel turns out great and reaches all of my expectations. 
Publisher: Loveswept
Publication Date: August 8th


ARC Received through Netgalley
Synopsis:
Enter the gritty biker world of the Raising Hellfire MC series where these L.A. bikers drink hard, drive fast, and dig deep for love.
Bike mechanic Lucy Black is running out of luck. With an attitude louder than a Harley engine, her mouth is always getting her in trouble and she's been fired, again. Desperate for money to send home to support her kid sister, Lucy takes a housekeeping job at Wilde Hotel, the adopted home of the Raising Hellfire MC. After a steamy moonlit encounter with a dark stranger, Lucy is horrified to find out he's her new boss so she's more determined than ever to make her hotel stay brief.
Jake "The Iceman" Slade is drowning in guilt and can't give himself a break. A tragic accident on set made him step away from his job as a real life action hero in the film lots of Hollywood. Now he's reluctantly agreed to run his half-sister's hotel, Wilde's, while she's away, trying to keep it—and himself—from going under. Lucy is the kind of trouble he can't afford, but can't seem to resist. But with an equally troubled past, will Lucy be the fire to melt his frozen heart?
Ride Me Right is a sexy, emotionally intense read that will take readers on the ride of their lives.
The last book I want to read this week is A Stone In The Sea by A.L. Jackson. This month (August) I've decided to continue on with my monthly series challenge. *Look out for a post all about it* This month I chose to read the Bleeding Stars series. This series has been on my TBR for far to long and it's about time It made its way to my kindle! I'm excited to start this series, I've heard nothing but amazing things about it!
Publisher: Self Published




Publication Date: February 21st, 2015




Format: KINDLE UNLIMITED
Synopsis:
He wanted nothing at all… 
Until he found she had everything to give…
Sunder lead singer and guitarist Sebastian Stone has everything—fans, fame, and fortune. He also has a heart full of bitterness and a reputation for a short-fused temper. But an outward reputation rarely reveals the true man inside. Facing assault charges after trying to protect his younger brother, Sebastian is sent to Savannah, Georgia to lie low until the dust settles in L.A.
Shea Bentley is beautiful, kind, and hiding from the very lifestyle Sebastian has always embraced.
When the mysterious, tattooed stranger begins hanging out at the bar where she works, Shea is quick to recognize he is nothing but trouble, but she's helpless to the way her body lights up every time his intense gray eyes tangle with hers.
They both soon find themselves drowning in a sea of desire and passion that won't let them up for air.
Sebastian knows firsthand secrets never die, and he's not the only one who's hiding them.
Loving someone always comes with a price. But will it be Shea's past that costs them everything?

What are you reading this week?
Peace Love and Happy Reading,