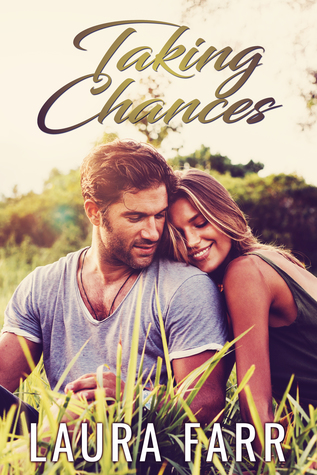 Taking Chances
(Healing Hearts #1)
By: Laura Farr
Genre: Contemporary Romance
Trope: Small Town, First Love
Publication Date: March 31st, 2017
Publisher: Indie Author
Format: Paperback | Pages: 260
My Rating: ✮✮✮✮
Blurb:
When Libby Davis loses her best friend in a tragic accident, she can't find a way through the grief and guilt that consumes her. Desperate to escape the memories that are stopping her from moving on, she visits her Aunt and Uncle on their ranch in Texas.
There she meets Mason Walker, a sexy ranch hand with a mysterious past, and a reputation he wants to leave behind. Despite her reluctance, sparks fly between the two of them, igniting feeling that neither have ever known before.
When someone from Mason's past starts to cause trouble, will Libby be willing to take a chance on love, or will her already damaged heart not allow her to?
Read Today:
---
First let me start this review off by saying….
I freaking love the Romance Reveal Book Box! If it weren't for this subscription book box, I would have never picked up this novel… and I would have never been introduced to Laura Farr! So thank you Romance Reveal Book Box for causing me to add, yet another, author to  my 'Authors To Watch Out For' list!
About Taking Chances:
Taking Chances isn't at all what I expected it would be. It was so much more. Libby is lost in the turmoil of losing her best friend and refusing to open up to anyone isn't helping matters.
When her parents decide enough is enough and bring up the idea of Libby spending a month or so in Texas with her aunt and uncle, she is hesitant but ultimately goes along with her parent's plans. Hoping like hell this trip will finally end the nightmares that chase her at night. When she meets Mason Walker she feels a sudden urge to finally open up to someone. But Mason Walker has demons of his own to fight, demons that could either make or break a relationship.
My Thoughts:
It was so heartbreaking witnessing Libby deal with the emotional turmoil and guilt her best friends death has left her with. The heartbreak quickly faded when Mason stepped onto the scene. This man is beyond everything I want in a book boyfriend. The moments when he was able to get Libby to open up about everything, these moments made my heart melt!
The chemistry between Libby and Mason is spot on! These two have the ability to not only scorch the pages with sexual tension but also give us those sweet endearing moments I always look forward to when reading a small town romance.
I decided to give this a four star rating only due to the fact that the start of Libby and Mason's relationship is way to insta-lovey. I would have liked it to have been drawn out a tad bit more before the I love you's were thrown into the mix.
Overall, I loved this one! I can't wait to pick up more novels by Laura Farr in the (VERY) near future!!! If you're looking for that special novel to cozy up under a blanket, with a cup of coffee, next to a fireplace, you should definitely pick up Taking Chances by Laura Farr and see where it gets you! You won't be sorry!
---
Peace Love and Happy Reading,
You can also find me here: