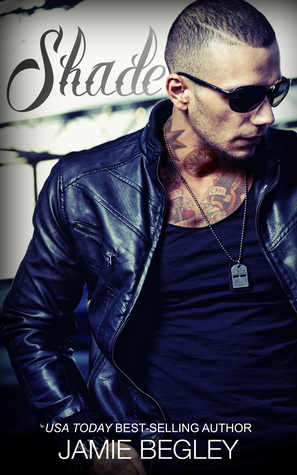 Shade
(The Last Riders #6)
By: Jamie Begley
Genre: MC Romance
Publisher: Young Ink Press, LLC
Publication Date: March 15th, 2015
Format: Kindle
My Rating: ✮✮✮✮✮
Blurb:
Want, need, pain, and joy were emotions Shade had never known existed before Lily. He knew the first time he saw her face that she was going to change his life forever. The thing he hadn't expected was how hard it would be to hide who and what he was from her. Each step he took out of the shadows revealed more of himself, until only one secret remained. Shade arrogantly believed he could help heal the wounds from her past, but now it was his own past that was trying to tear them apart. To keep Lily, Shade would have to use the very skills he had been trying to hide from her. The skills that made him a killer … a soulless monster.
---
✮ ✮ ✮ ✮ ✮
---
"Do you know why I have so many tattoos? It's because I felt invisible, as if I didn't exist. The tattoos made me feel like I wasn't a shadow."
---
Shade is the 6th book in The Last Riders series and the 12th book in Jamie Begley's reading order.
After reading Shade's Fall (The Last Rider's #4) I have to say I was a little disappointed at the fact that I didn't get as much of a glimpse inside Shade's thoughts as I wanted. This man is an anomaly to me. In all his life he hasn't formed a single emotional attachment with anyone. Until Lily. I found this concept interesting and intriguing so to say I was a tad bit disappointed by Shade's Fall would be an understatement.
I had no clue that Shade would be a complete insight of the whole Last Riders series through Shade's eyes! OMG, When I started reading this one I legit jumped up and down screaming at those first moments where Shade felt his first attachment and from then on my heart only grew fonder for this man.
Funny story, In Shade's Fall, there were moments I resented the man for some untimely actions he committed… Well, after reading Shade, I feel like a complete dumbass for ever doubting this man's feelings towards Lily.  If ever there was a book boyfriend who was 100% committed, it's this man right here. He went above and beyond to help Lily through every emotional crisis she's ever had to face.
Those epilogues though! Holy hell, I'm still wiping tears from my eyes!
Overall, Shade and Lily's story is a difficult one to digest, but what a freaking ride. These two have been through it all and still they find themselves standing side by side by the very inevitable end. ALL THE FEELS!!!!
I don't know how Jamie Begley is going to top this novel, as of right now Shade (The Last Riders #6) stands at the very top of my favorites and I have a feeling it will stay at that number one spot through the very end.
---
The section below contains amazon affiliate links. This is a way for my site to earn advertising fees by advertising or linking to certain products and services.
Read Today!
Amazon US: https://amzn.to/2sIU5Ef
Amazon Universal: http://getbook.at/Shade
---
Peace Love and Happy Reading,
You can also find me here: